Swachhata Pakhwada was celebrated at NESAC during 01st – 15th February, 2022 in pursuance of CEPO, ISRO HQ Guidelines. A Swachhata Pakhwada Implementation Cell (SPIC) of NESAC was constituted to formulate an action plan for observation of various activities throughout the fortnight. The Action Plan was finalized and circulated for implementation at NESAC. The day wise action plan with identified co-coordinators is given below.
Date
Activities
Co-ordinators
Time
01.02.2022
(Tuesday)

Inauguration of Swachhata Pakhwada and administering of Pledge by Director NESAC
Briefing of Pakhwada Activities by Head CMD

Kumar Anand
&
Anjan Debnath
10:30 Hrs
02.02.2022
(Wednesday)

Widespread publicity about Swachhta Pakhwada 2022 activities through posters, banners display at NESAC Office, Outreach & Residential Complex

Shri Aman Singh
&
Kumar Anand
10:30 Hrs
03.02.2022
(Thursday)

Installation of Automatic Hand Sanitiser at Annexe Building, Office Canteen, Office Main Entrance & Guest House Reception

Shri Aman Singh
10:30 Hrs
04.02.2022
(Friday)

Cleaning of Water Bodies in NESAC premises

Shri Aman Singh
10:30 Hrs
05.02.2022
(Saturday)

Plogging Run organised around NESAC Campus

Shri Anjan Debnath, Shri Sumanth B.C

Shri Harish Darji

10:30 Hrs
06.02.2022

(Sunday)

Break

07.02.2022
(Monday)

E waste collection drive in NESAC Office & Residential complex

Shri Santanu Das
&
Shri Nilay Nishanth
10:30 Hrs
08.02.2022
(Tuesday)

Distribution of Manure generated from in-house compost unit to all employees

Dr. Chandan Goswami
&
Shri Aman Singh
10:30 Hrs
09.02.2022
(Wednesday)

Awareness rally on Swachhta highlighting importance of Hygiene and cleanliness

Shri Shanbor Kurbah
&
Shri Santanu Das
10:30 Hrs
10.02.2022
(Thursday)

Poster making Competition & Drawing Competition at Christ School, MeCL school, Bethany & KV NEPA

Dr. Rocky Pebam & Team
10:30 Hrs
11.02.2022
(Friday)

Distribution of Water Bottles to Employee

Kumar Anand
10:30 Hrs
12.02.2022
(Saturday)

Organise Camp activities to promote behaviorial change to keep surrounding clean with awareness on Plastic Pollution and other environmental activities

Shri Aman Singh
Shri Santanu Das
Shri Anjan Debnath
10:30 Hrs
13.02.2022
(Sunday)

Break

14.02.2022
(Monday)
Kumar Anand
10:30 Hrs
15.02.2022
(Monday)

Talk by eminent speaker on health/ hygiene/ sanitation / waste segregation at source.
Prize distribution to competition winners
High Tea

Shri Ramani Kumar Das, Chairman Swachhta Pakhwada Implementation Committee & all members
10:30 Hrs
All activities as mentioned in the action plan were observed with large and spontaneous participation of NESAC staff. A few pictures of the individual day-wise events are given below.
Day 1: Inauguration of Pakhwada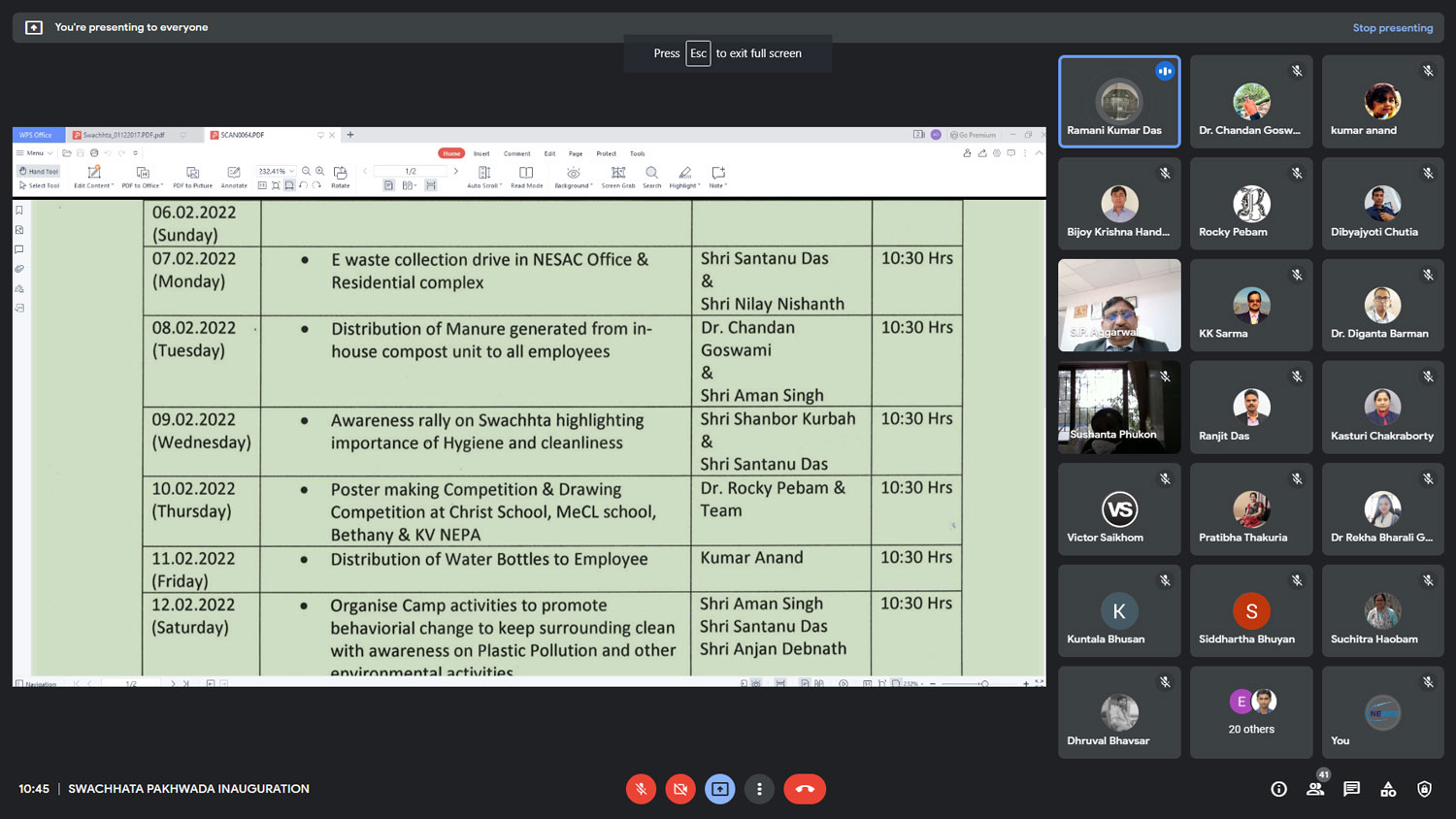 Day 2: Widespread Publicity through Posters & Banners
Day 3: Automatic Hand Sanitizer Installation at common locations
Day 4: Cleaning of water body at NESAC premise
Day 5: Plogging Run
A plogging run was organized on 05th February, Saturday from NESAC Guest House up to NESAC Office. Staff, family members & CISF personnel actively participated in the plogging run. T-Shirts were distributed to participants. Around 5 Kgs of plastic wastes were collected from the area covered under the run which were disposed off later.
Day 6: E-Waste collection Drive
Day 7: Distribution of in-house generated manure
Day 8: Awareness Rally on Swachhata
Day 9: Various competitions for school children
Schools in vicinity of NESAC were contacted and the students of four such schools took part in drawing & poster making competitions. Almost 100 students participated in the competitions. Prizes of these competitions were announced during the closing ceremony on 15th February.
Day 10: Distribution of Water Bottles
Day 11: Distribution of Masks
Around two thousand masks were distributed to inhabitants residing in the NESAC surrounding areas by a team of NESAC on 14th February, 2022.
Day 12 : Closing of Swachhata Pakhwada
After the fortnight-long celebration of Swachhata Pakhwada through the above mentioned multitude of activities, on 15th February, 2022 the closing ceremony of the Pakhwada was organized on a virtual mode. Dr. Star Pala, Associate Professor & Mrs. Ophelia Kharmujai, Public Health Nursing Officer of Community Medicine Division of NEIGRIMHS, Shillong were invited as guest speakers. They delivered two talks on "Choose to be Healthy" & "Hygeine & Sanitation" to the staff of NESAC. The lectures were well received by all the listeners. Prizes for various competitions organized during the Pakhwada were also announced during the closing ceremony. Director, NESAC in his closing address commended the activities taken up during the fortnight and encouraged the staff to follow the practices of Cleanliness & Hygeine.